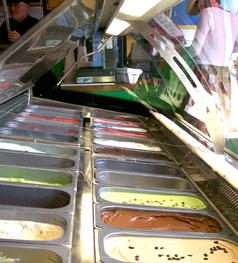 Heavenly Shortcakes and Ice Cream (Coffee, Too!)
Seaside, Florida

Take a stroll through Seaside until you see the giant triple-scoop ice cream cone in front of Heavenly Shortcakes and Ice Cream. Stop in for a treat made in heaven!
Heavenly Shortcakes and Ice Cream is a one-of-a-kind confectionary shop created by its vivacious namesake, Heavenly Dawson. The central location in this breezy beach town makes us the perfect place to pop in on a bright, sunny day or a balmy evening for a mouth-watering treat. A rainbow of traditional ice cream flavors, delicious gelatos, memorable strawberry shortcakes, gourmet cookies and the famous symphony brownie from our friendly shop can beckon a sweet tooth for miles around.
Cool off with our luscious premium Blue Bell® ice cream. You'll find its smooth, light texture irresistible when combined with your favorite nutty and candy toppings. Bring your kids and let them watch our ice cream girl (or boy) fold in their sweet and crunchy treats right before their eyes!
Our organic, locally made creamy gelato is a growing favorite, and you'll discover one of the widest selections of gelato and sorbet to be found anywhere in the country. We're betting you'll return again and again to savor our authentic Italian ice cream and relive your fondest memories of trips to Italy.
If you like traditional desserts, dive your spoon into one of our scrumptious signature strawberry shortcakes, crowned with fresh strawberries and our whipped topping. Or thrill your taste buds with a creamy milkshake or your favorite ice cream float. Whichever sweet treat you fancy, it's guaranteed to be heavenly!
Are you a coffee lover? Heavenly's can start your day with a cup of select micro-brewed coffee, or top the evening off with America's favorite - a steaming cup of our premium blend and a chocolate chip cookie.
Signature gifts, including the popular Webkinz® with over 40 styles to choose from, are sold at Heavenly's. You'll want to take home a few of our collectors' T-shirts, sporting such sassy expressions as "Two Scoops of Heaven" and "Ice Cream Girl" in your favorite fashion colors.
Ready to start making some memories at Heavenly's?
Heavenly Shortcakes & Ice Cream
63 Central Square
Seaside, Florida 32459
Hours: Opens at 10 a.m., 7 days a week.
Call us at 850.231.2029